Equipping your farm for no-till success: planter and drill attachments
by Ryan Stockwell
ARTICLE SUMMARY
Considerations when equipping drills and planters for no-till success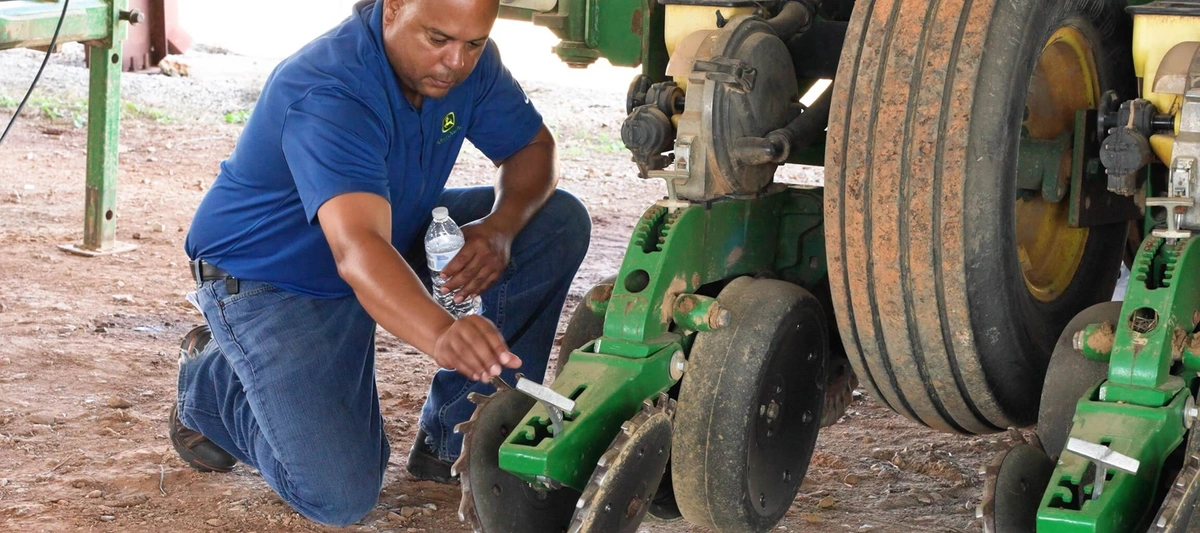 Stop me if you've heard this one before. You tell a neighbor you are considering no-till. Your neighbor, wanting to be helpful, warns you that he tried it 15 years ago and it doesn't work. Wanting to understand, you ask what happened. The neighbor replies, "Terrible stand. Drill wouldn't stay in the ground. Needed more down pressure to cover up the seeds." Out of curiosity you ask, "Did you use the same drill you have?" Your neighbor quickly replies, "that doesn't matter, you're going to face the same problem no matter how you plant. We just need to till around here." 
Unfortunately, too many past no-till attempts ended like this—in frustration. The good news is, these issues can be avoided with awareness, preparation and the right equipment.
There is more to no-tilling than simply NOT tilling. 
No-till fundamentally demands a change in how we think about planting and how drills and planters meet the three goals of a planting pass: 1) opening the seed furrow, 2) placing the seed consistently at the bottom of the furrow at a consistent depth, and 3) closing the furrow over the seed. When broken down into these tasks, it becomes apparent how planting equipment must change to meet each need. 
When soil has been tilled, planters do not need much force to open the furrow and reach planting depth. Wider gauge wheels are required to float on tilled soil, and closing the furrow requires lightly moving loosened soil and packing it down over the seed. 
Each of these actions look quite different in a successful no-till situation. Opening discs must be sharp to cut through residue and to open the furrow. Gauge wheels should be narrow to minimize row uplift over heavy residue. Seed tabs prevent seeds from bouncing out of the firmer furrow soil. And instead of using closing wheels to pack down loose soil over the furrow, no-till planting equipment should have closing wheels placed at an angle to break the side walls of the furrow so they can crumble over the seed—this also helps prevent reopening when dry weather hits.
Keeping these differences in technique in mind will significantly improve your no-till planting experience and help you avoid typical pitfalls.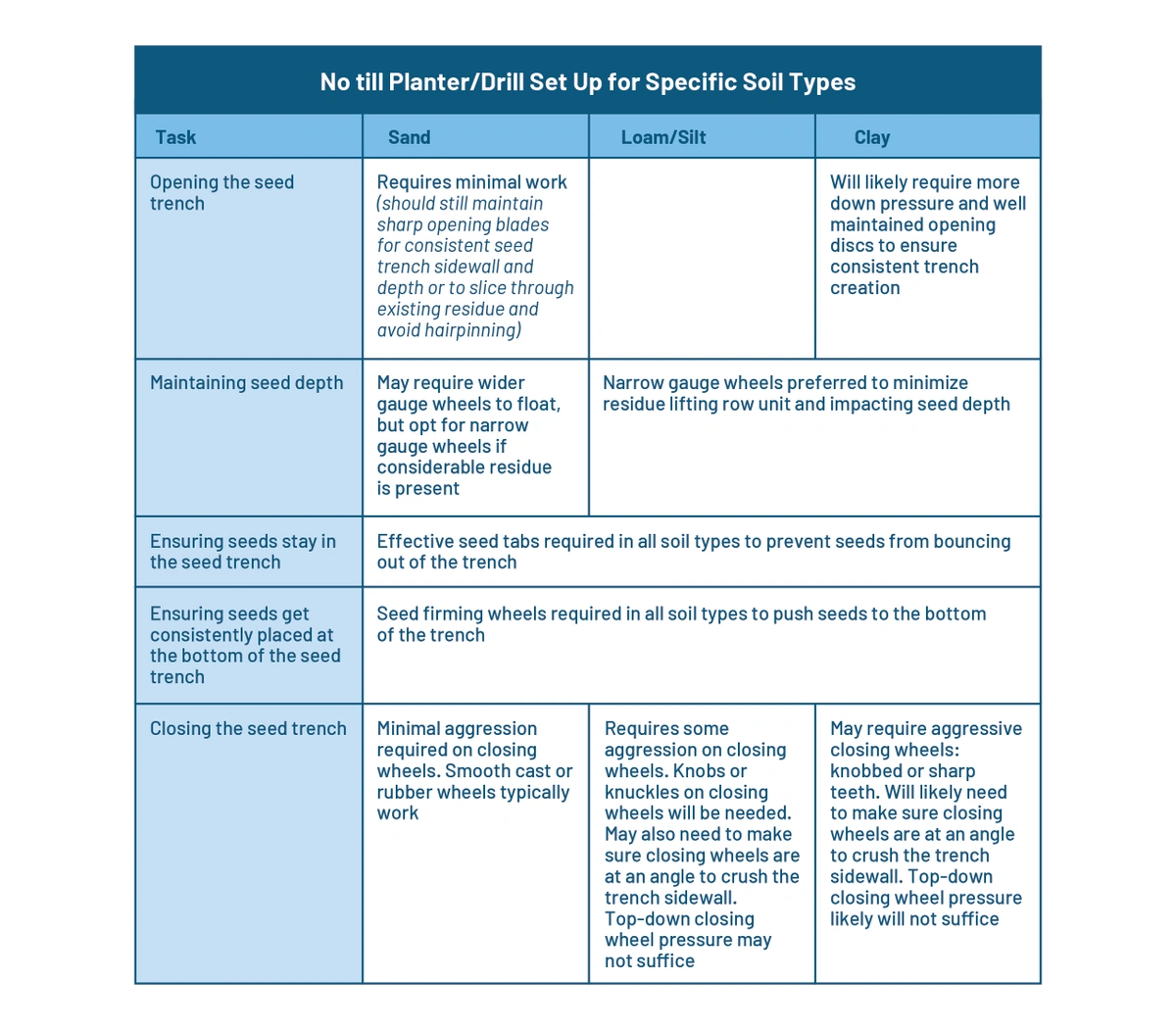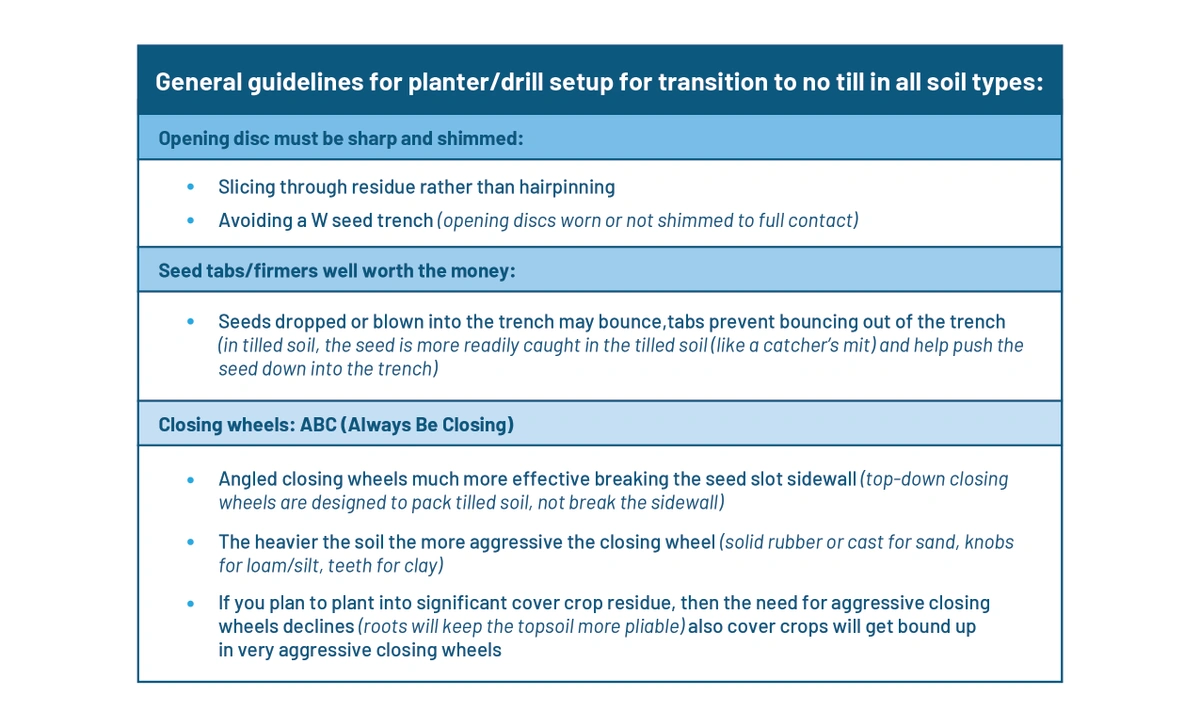 Have more questions about equipping your farm for no-till success? Check out the Soil Health Optimizer tool or speak with an agronomist via the chat button on the bottom right corner of your screen. Log in or create your free account to access the tool. A carbon farming expert can help you with the transition to reduced tillage or no-till. Ready to dive deeper into no-till benefits? Explore our agronomic tool to see savings from this transition.
By Ryan Stockwell, Indigo Ag Senior Manager of Grower Engagement and Wisconsin Farmer
This article may include information from third-party sources or other information that Indigo may not independently verify. Carbon quantification methods, processes and understandings are in their nascency and subject to change and continuous development. The information contained herein is for general informational purposes only and may be based on generally applicable assumptions that may not be applicable to any individual operation. Actual results may differ among growers and farms based on a large number of variables. Each operation should independently consider the financial implications and all potential risks and benefits of the use of any agronomic practice. Any payments under Carbon by Indigo are subject to multi-year vesting and are contingent on continued long-term maintenance of regenerative agricultural practices and soil carbon levels. All Carbon Credits generated are subject to buffer pool holdbacks required by third-party crediting; participants will not receive payments for such holdback. Neither Indigo nor its representatives or affiliates makes any representations, warranties or guarantees as to any specific outcomes (agronomic, financial or otherwise) in connection with any recommendations, calculations or predictions. Terms, conditions, limitations and eligibility requirements apply. See program agreement for additional details regarding Carbon by Indigo.
Farmers like you are getting paid to implement practices that improve soil health. With skyrocketing input costs, see how covers help.
You might also be interested in: